Keeping Pets Healthy and at Home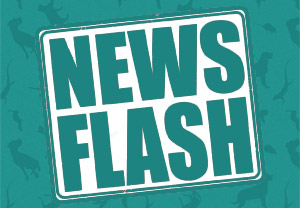 Thank you FANCY'S FUND at the CALGARY FOUNDATION for your generous support to Tails of Help this year!
A grant from the Fancy's Fund has been made to support Tails of Help's work with/support for CATS AND DOGS:
"This grant is made in keeping with Calgary Foundation's desire to strengthen charities. Thank you for your ongoing work in building stronger communities in Calgary and area."
This support has been so vital for Tails of Help to keep saving more pets for vulnerable families in need, during these difficult times for all charities.
THANK YOU again to Fancy's Fund at the Calgary Foundation!

---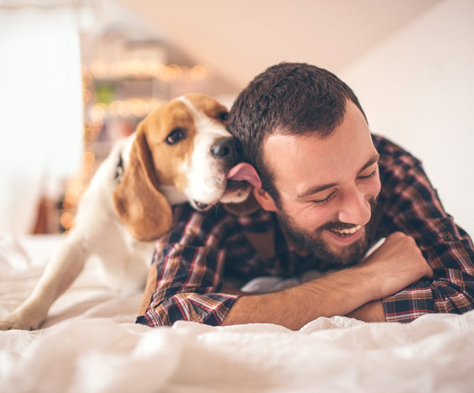 We are proud to announce VCA Canada has renewed their commitment again
this year as our Premier Level Sponsor for Tails of Help.
"At VCA Canada, we're pet people too. We understand the importance of your morning
snuggles and the tail-wagging excitement when you come through the door, even if you're
only gone for five minutes. Your pets are always there for you, so we are always here for
them."
"Caring for life's greatest companions"
With 100+ animal hospitals located in 5 provinces, 350+ compassionate
veterinarians in Canada, and access to 525+ board-certified specialists across
North America, we are here for you and your pet.
For more information about VCA Canada, please visit
vcacanada.com
Thank you VCA Canada! — for supporting Tails of Help to keep saving more Alberta pets!

---
---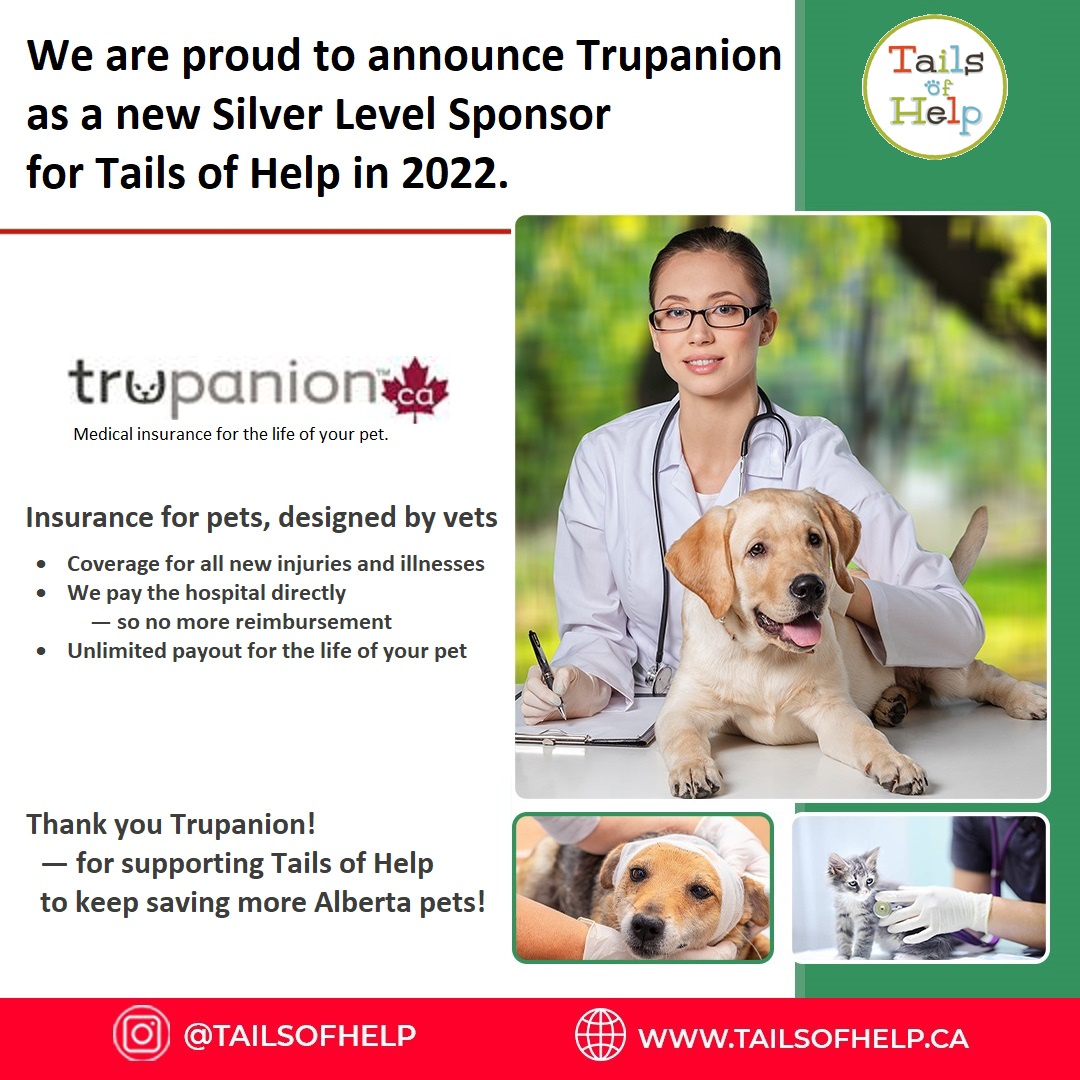 We are proud to announce Trupanion as a new Silver Level Sponsor for Tails of Help in 2022.
"At Trupanion, we're on a mission to help loving, responsible pet owners budget and care for their pets."
"Medical Insurance for the life of your pet."
"Insurance for pets, designed by vets:
Coverage for all new injuries and illnesses*
We pay the hospital directly — so no more reimbursement
Unlimited payout for the life of your pet"
Thank you Trupanion! — for supporting Tails of Help to keep saving more Alberta pets!
---
Tails of Help does Education too!
Keep an eye on our social media pages (Facebook/Instagram) for valuable informative posts to help pet owners with protecting their pets' health.
You can also find more detailed articles published here on our website "Pet Health" pages. (see our website main menu)
Edmonton Humane Society and Tails of Help
Launch Pilot Project to Keep Pets with their Families
We're thrilled to announce today that Edmonton Humane Society have joined forces with Tails of Help, another local charity, to launch a new pilot project that aims to reduce surrenders of sick and injured pets when their guardians face financial hardship.
The goal during this pilot is to help one family per month receive essential veterinary care for their pet due to unexpected, one-time incidents so that they can keep their pet in their home.
"We've all faced tough times in life where one unexpected bill – such as for a sick or injured pet – forces us to make an impossible choice," said Liza Sunley, CEO of the Edmonton Humane Society. "It's a heartbreaking decision for someone to have to surrender or euthanize their pet because they cannot afford the necessary veterinary care. With this program, Tails of Help and EHS can help them get through these challenges and maintain that human-animal bond."
Of the nearly 500 companion animals who were surrendered into EHS' care in the past 18 months, just over 10% of them were due to financial hardship or pet health-related reasons. This is consistent with the rate that was seen in 2019, before the pandemic.
"Tails of Help has been funding essential veterinary care since 2013 for these types of situations, and every year we're seeing more families and pets in need of our help," said Mark Patrick, Executive Director of Tails of Help. "The Edmonton Humane Society is the first shelter we've partnered with to address pet surrenders specifically, and we're so grateful they see the value in keeping these pets with their loving families and will support this program to make that possible."
Candidates for the program will be identified from the
surrender requests which come into EHS
, then recommended to Tails of Help based on their situation. Tails of Help will then determine if they meet the eligibility requirements. Those that do will be referred to a local veterinarian for the necessary treatment instead of surrendering their pet. EHS and Tails of Help will both contribute to covering the costs of the care.
"If there's anything we've learned this past year-and-half, it's that the companionship and comfort our pets provide during difficult times is invaluable," added Sunley. "Even one family being permanently separated from their pet because of an accident or unexpected illness while facing financial hardship is too many. When that pet is already in a loving home, it makes sense to help keep them there when we can."
The pilot project began this summer and will run to the end of 2021. At that time, it will be evaluated by EHS and Tails of Help to determine its viability moving forward.
Those that wish to support the program can donate to the Edmonton Humane Society at
edmontonhumanesociety.com/donate
, or to Tails of Help at
tailsofhelp.ca
.
---
Tails of Help Has Saved More than 1,000 Pets! Aug 2021

Tails of Help is pleased to announce that our volunteer-driven non-profit has just reached a major new milestone: Tails of Help has now saved over one thousand Alberta pets with veterinary treatment since our organization began. Tails of Help relies on public support and donations to keep the treatment program open and saving more pets of at-risk Alberta owners and families. This vitally important cause needs your support. To donate or volunteer, please visit the www.tailsofhelp.ca Home page.
Too many at-risk Alberta residents encounter a situation where they cannot afford needed veterinary medical treatment for a beloved family pet. Without that treatment the pet will endure suffering, or pet owners are forced to make heart-rending decisions to surrender or euthanize their pet. Sometimes these pets are the primary companion, deepest friend, and most loving contact in their owner's lives. Often, they are essential to the emotional and mental well-being for at-risk members of Alberta society.
The COVID pandemic has been a huge challenge with so many fund-raising and public awareness events activities cancelled or postponed, yet during the past twelve months Tails of Help still aided over 200 more Alberta families to get essential treatment for their pets. Tails of Help expects this significant increased level of need will carry on well into 2022.
Tails of Help is a registered charity dedicated to providing financial assistance for essential health care for ill or injured pets of at-risk pet owners throughout Alberta, including low-income families, persons with disabilities, seniors, and domestic violence victims.
Tails of Help is approved by the Alberta Veterinary Medical Association, the Edmonton Humane Society, the Calgary Humane Society, and supported by the Calgary Foundation.
Please click our DONATE button today to contribute! (top right of our web pages)
---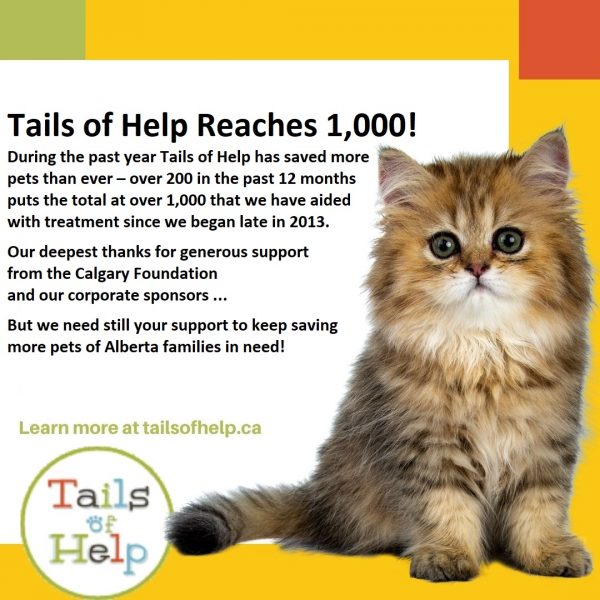 ---

Frequently Asked Questions

Tails of Help benefits Alberta pet owners and their animals and is supported by Alberta veterinary practices, veterinarians and animal health technologists who frequently encounter the situation where animals are surrendered or euthanized due to an owner's limited financial resources.
Tails of Help charitable activities will be delivered through participating Alberta veterinary practices. Veterinarians and animal health technologists are essential to program success. As well, Tails of Help encourages ABVMA members, animal rescue and shelter groups to become involved as volunteers in the Tails of Help activities with respect to education, and the reduction of root causes leading to forced and unnecessary surrender or euthanization of pets due to an owner's financial hardship.
Tails of Help has the objective to provide assistance to the Alberta pet owner facing financial hardship whose companion animal is ill or injured and requires essential veterinary care. Tails of Help also strives to educate the public on the cost and responsibilities of pet ownership, including disease and injury prevention. The goal is to help reduce the burden on animal shelters, humane societies and social services in the province by keeping pets healthy and with their loving families.
Too many Albertans are forced to give up a family pet because they can't afford needed health care.
When financial hardship strikes, ill or injured animals are often left untreated, suffering, surrendered, or even euthanized.
Tails of Help strives to reduce the burden on animal shelters, humane societies and social services in the province by keeping pets healthy and with their loving families.
When you give, you can be assured your dollars are being used effectively to keep pets healthy and with their families. Tails of Help collaborates with participating veterinary clinics to determine medical need for the pet and financial need of the owner. This ensures that charitable activities serve qualified recipients with pets that face a good prognosis for recovery and treatment.
Tails of Help will be measuring results in this program and will report back to donors. We have developed rigorous standards of excellence for performance in all aspects of our operation as a registered charitable organization.
We support Albertans that own companion animals and who are below certain financial thresholds. Participating veterinary clinics are all members of the Alberta Veterinary Medical Association.
During the start-up of this foundation, the initial costs (for CRA registration, website development and materials to promote awareness of our organization and for initial fundraising activities) were generously funded by private foundations, individuals and certain associations interested in supporting this initiative. The ABVMA has also generously provided certain resources at no material cost to its members and have engaged key veterinary members, with a passion to develop this worthy activity, to support an orderly and successful start-up of this foundation. It is our objective to keep all related administration costs below 20 per cent of the total funds raised in our first year of operation and to reduce this percentage as we develop our capacity and capability in the organization. For comparison, the Canada Revenue Agency (CRA) considers 35 per cent to be an acceptable standard.
Assistance To Financially Challenged Pet Owners.

Tails of Help is seeking to raise commitments of $236,000 during its fiscal year ending May 31, 2023 through its fundraising campaigns. We estimate that it will cost our organization $59,000 to raise this amount. We anticipate that these fundraising costs will be entirely covered by corporate sponsorships and grants. This means that all additional donations will go toward our charitable activity of helping pets and families. We plan to use the donated money to fund essential veterinary care for ill or injured pets of Alberta owners who are experiencing financial hardship. Our goal is to keep pets healthy and with their loving families. For further information, please see our website at
www.tailsofhelp.ca, or contact Mark Patrick, Tails of Help Executive Director by email to info@tailsofhelp.ca or phone at 587-575-8415. Our mailing address is:
Tails of Help, 1260 – 5328 Calgary Trail NW, Edmonton, T6H 4J8.
Tails of Help is incorporated under the Companies Act (Alberta) and is a registered charity under the Income Tax Act (Canada).
admin
You love your pet and always want to do what's best for their health and comfort, right?  Dental care is one of the most important things to focus
admin
Our cats do all sorts of weird things that make us stop and wonder just what's going on in their feline minds. There are a lot of questions
admin
You love your dog, but you need to have some professional help in dealing with some of their crazier antics, right?  If so, one of the most valuable