VOLUNTEER
We'd love to have you join our growing list of energetic, enthusiastic and talented volunteers!  Whether you have a few hours to donate or time for a larger commitment, we would be happy to have you join our cause.
Individual Giving
BECOME AN INDIVIDUAL ANNUAL SUPPORTER
Give your support today by becoming an Individual Annual Supporter.  Individual Annual Supporters will receive a charitable tax receipt and recognition on our website.
INDIVIDUALS LEVELS

DIAMOND – $2,500 AND OVER
SAPPHIRE – $1,250 – $2,499
RUBY – $500 – $1,249
EMERALD – $100 – $499 
Give what you can, amounts less than $100 are greatly appreciated.
Corporate Giving
BECOME A CORPORATE ANNUAL SUPPORTER
Give your support today by becoming a Corporate Annual Supporter.  Corporate Annual Supporters will receive recognition on our website and at program events.
CORPORATE LEVELS

PREMIER – $25,000 AND OVER
PLATINUM – $15,000 – $24,999
GOLD – $10,000 – $14,999
SILVER – $5,000 – $9,999
BRONZE – $500 – $4,999
IRON – $50 – $499
Interested in sponsoring or hosting a fundraising event? Contact us and we'll work together to determine the best way for your company to participate.
Please email us here:  giving@tailsofhelp.ca 
---
THANK YOU!
To our 2022 Corporate Sponsors and Grant Supporters: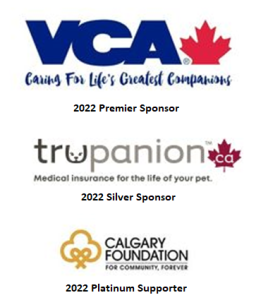 Assistance To Financially Challenged Pet Owners.

Tails of Help is seeking to raise commitments of $236,000 during its fiscal year ending May 31, 2023 through its fundraising campaigns. We estimate that it will cost our organization $59,000 to raise this amount. We anticipate that these fundraising costs will be entirely covered by corporate sponsorships and grants. This means that all additional donations will go toward our charitable activity of helping pets and families. We plan to use the donated money to fund essential veterinary care for ill or injured pets of Alberta owners who are experiencing financial hardship. Our goal is to keep pets healthy and with their loving families. For further information, please see our website at
www.tailsofhelp.ca, or contact Mark Patrick, Tails of Help Executive Director by email to info@tailsofhelp.ca or phone at 587-575-8415. Our mailing address is:
Tails of Help, 1260 – 5328 Calgary Trail NW, Edmonton, T6H 4J8.
Tails of Help is incorporated under the Companies Act (Alberta) and is a registered charity under the Income Tax Act (Canada).